Learn how we make healthy meals at home without a super complex meal planning system. Making healthy meals at home doesn't have to be hard.
Don't get me wrong, I love me a good Pinterest recipe. When I have time in the winter I love finding new and different recipes to experiment with. But day to day cooking for six family members, running three business would be entirely too exhausting if I had to stick to a meal plan.
I've tried it. I really have. Once, I made myself this really lovely blackboard chart / calendar. Laminated recipes would get magnetized to it and we would plan around that. It usually ended with leftover nights on Fridays.
It lasted about 1 week and we were back to our old ways of cooking.
My loving sister has also tried to steer me in the way of meal planning, by making me this beautiful glittered purple binder with all kinds of new and fun recipes. She had such good intentions of trying to eliminate stress in our kitchen around meal time.
When my dear friend told me that she was going to start a meal plan around her beef recipes, I was so excited for her, because I knew how much of an expert she is and how good she would be at it. I so badly wanted to get it for myself, but I had been down that road before, I just know myself and our ways better.
Meal Planning Stress
If you are the type of person who loves to Meal Plan and believe me, I know plenty of people who are, you should probably not read the rest of this post ;).
Instead of enjoying my time, collecting the items for the recipes and organizing them neatly into my pantry in order that I would use them that week, I just froze.
I feel seriously overwhelmed at the thought of spending the entire day outside in the garden, then coming into the kitchen early enough to clean up, spend hours learning a new process or recipe and then prepare something, without having the full ingredient list, and that only half of us could/ would eat and end up tossing out to chickens later on.
Our family of six has a wide-range of food allergies so I am constantly trying to find new dishes that will both excite our palates and not make us go into anaphylaxis at the same time.
Recipe Overwhelm
The idea of having useless or spendy ingredients taking up space in our pantry and spice cupboard only to be used for one recipe also feels really inefficient, especially as our food prices rise in cost.
Meal planning can feel so overwhelming, that it's now wonder many people can't follow though with food fads and diets.
Tips for healthy meal planning
5 Things that just make sense in Meal Planning
There are a few things that we do almost without thinking anymore here in our kitchen.
1. Thawing Meat
On our farm, we raise our own beef, partner with the neighbors to process pork, deer hunt for venison, to make hotdogs and ring bologna, buy a few frozen chickens from the local farms in our area and get in good with some friends who bring us back fish from Alaska when they go. We have no meat shortage in our freezers.
We always have some sort of meat thawing, either on the sink grate or in a pan in the fridge. My rule is to always take the meat out of it's packaging before it goes in the fridge, but that doesn't always happen.
If we have some sort of meat thawed, we could be 30 minutes away from a decent meal. Add some rice, potatoes and either cooked or raw veggies, sliced up orange for a bit of sweet and vitamin c with our meal, a slice of homemade bread and everyone is happy!
If we have more time, that day, or need to spend the day outside, maybe the meat gets cooked on the grill or smoker instead of heating up the house on a hot day. A tinfoil of ruff cut potatoes and onions with some salt, pepper and butter and they can go on the grill too.
Heck, we might even end up eating it right off the grill at the picnic table outside because we are covered in farm work.
If I don't have my head on straight and have any meat thawed, I rely on my Instant Pot to do the work of cooking meat for us.
2. Washing and Cutting up Fruits and Veggies once they come in from the garden or grocery store
Another tip that I love sharing is this one, that takes a little extra effort after unloading groceries, but it helps up eat up our fruits and veggies way easier. Washing up fruits and veggies and getting them all cut up and tossed into bags to go into field coolers, snacks or just in a pyrex container.
Making a healthy meal can be tough enough, taking this step out of the equation when you're in a rush to get food on the table can be a real time saver!
Once this process is done, you are ready for anything! Use the veggies to cook up for a Chicken Casserole, steam some cauliflower and make Smashed Cheesy Cauliflower, dump into the crock pot, make a Potato Soup with, or toss on the table with some dip for some early dinner snacking.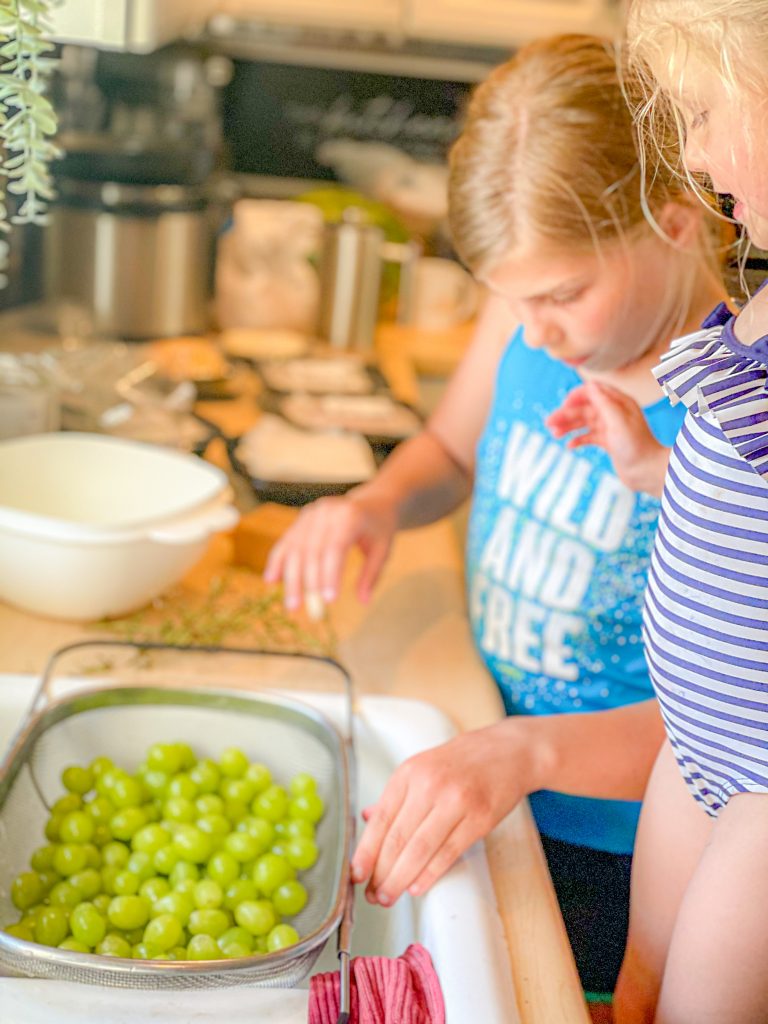 3. Growing and Preserving what we can + Eating Seasonally
Food prices are rising and I am so glad that we have taught our kids some food-growing skills. There are many veggies that my food allergy won't allow, so I now, spend much of my time growing root veggies, and squashes that we can store through the winter and I can still consume.
Things like garlic, potatoes, onions, carrots, butternut squashes, and cabbage work well to store for many months in our cool, dark storage room.
I love making sauerkraut, braiding garlic and onions, applesauce, processing tomato juice/ soups and storing away our root veggies in dirt in our basement.
Do we still grow tomatoes, peppers and the others that my birch pollen allergy doesn't allow for? Yes. I want to support our kids in their veggie journey as much as possible and expose them to as many different fruits and veggies as possible, so although I can't work with, cut up or eat these things, we do grow a few for the kids' sake.
Usually in the spring we are blessed with an abundance of eggs, the tomatoes are finally ripe or we have tons of cucumbers in the summer. I love the traditions that these seasons bring when it comes to our meals at home.
When it come to fresh eggs, we love Smoking Eggs for a quick healthy and savory snack. Or I might make 3 meals out of my Simple Egg Strata- rolling up a slice into a crescent roll for something different.
4. Stocking up
At the beginning of our farm's busy season when I will be in the gardens/ markets and Carey will be tending to field work, I make sure I stock the pantry. We live about 20-50 minutes away from a large grocery store, so when I grocery shop, it's almost always in bulk.
Here is more about how I prepare for field meal season.
Things like cream of chicken, cream of mushroom, tomato soup, sliced olives, mushrooms, stove top stuffing are all things that I can use for multiple dishes and meals.
I also like to have plenty fresh fruits around especially in the summer time. This makes for an easy side or snack on hot days. Tossing out a simple veggie tray with hummus or ranch on the table can sometimes suffice as a quick lunch, too.
We also love pulling chicken from a roasted chicken to put into freezer ziplock bags for a quick casserole, enchiladas or soup.
5. Make a Casserole and extra Dish
Growing up around other farm wives and woman who were experts at making field meals, I took it all in, not knowing that I would be referencing these things as I got older.
We had just finished cleaning up from feeding a big crew in the home of one gal that I looked up to when it comes to feeding multiple mouths at a time.
She laughed and said, "Yup, all you need to make the best casserole is a meat, a starch (potato, rice, stuffing), a can of cream of something and a veggie! There! There's my secret recipe to cooking for a large crew!" Her meals almost always included a slice of buttered bread, and some of her famous chocolate chip cookies or bars.
Pat was so right, too. As farm wives and farmers ourselves, it would be exhausting if we had to spend the entire day in the kitchen planning everything out. With just a few tricks up our sleeves and a thawed meat, we can whip up something hearty and delicious that will feed a large crew in a hurry.
While you've got all the dishes out and the kitchen is running, why not brown up a few more pounds of burger, use what you have leftover to make a casserole for later in the week, steam up some veggies, or use up those bananas sitting on your counter for some banana bread while you're at it?
Why You'll Love Un-Meal Planning
I hope that this will help those of you who just can't wrap your head around meal planning, feel less stressed out about making healthy meals at home.
Feel like chicken instead of pork tonight? Do it! You get to be as creative as you like. Or maybe you found a new recipe in my Field Meals Recipe book that you have some extra time to try.
Life can feel over scheduled sometimes, and meal planning is just one thing that doesn't have to be complicated by scheduling.
This is a skill that you can pass down to your kids. Have them help cut up the fruits and veggies after they come in. This way of preparing meals, requires nothing physical just a few set of skills that will last to the next generation,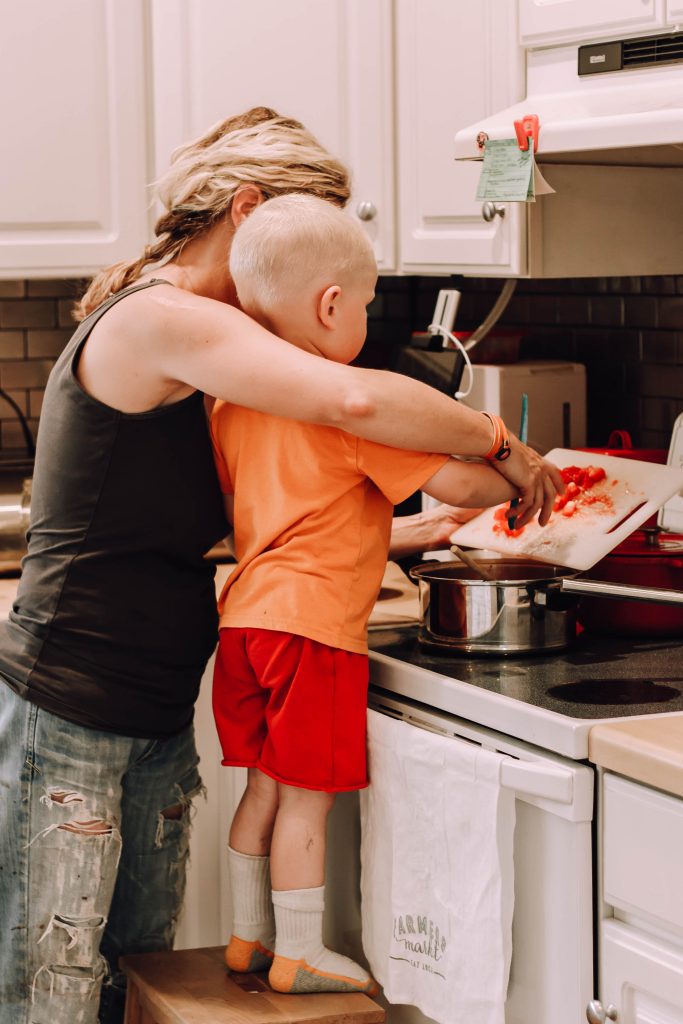 This Post May Contain Affiliate Links. Please Read Our Disclosure Policy.
5 Things you can do with an entire chicken!
But what if Meal Planning is for Me!?
If you are interested in the organization and the delight of a beautiful Meal Plan, I highly recommend my dear friend Jana McMurdie. She is a Registered Nurse and Nutritionist, mom to three adorable boys and ranch wife who shares her joy for Meal Planning.
She's a busy mom who doesn't have time to mess around in the kitchen and she knows that you're meal planning-self doesn't either. She emails out five healthy recipes each week and includes the grocery lists for each meal.
Complete with monthly recipes, weekly meal plans, and grocery lists, if I was the kind who could follow a meal plan, this would be the one I would choose.
Pin this for later!