Spring Planting on our Dairy Farm doesn't just mean tractors and bags of corn. It means faith, trust and a positive report from the weather man.
Planting on our farm is by-far the busiest season here. Not only are we planting corn, alf-alfa and beans, but we are also planting a large vegetable garden, vine gardens and our newly expanded cut-flower bed.
This year, the weather has prohibited a nice momentum of work. We've had crazy rains, followed up by tumultuous winds. It's been a steady pace of hurry up and wait. I love it when we have a nice solid run of days to work from sun up to sun down, but this was not one of those years. It has tested our patience, for sure.
Do what you can, with what you have, where you are at. That's all we can actually do.
When it comes to spring planting this year, I don't know how many times I told myself, 'do what you can, with what you have, where you are at'- as my weed barrier is whipping up in the air out of control, and my torch won't stay lit to burn the holes in to the barrier fabric. It has been beyond frustrating as we watch out the window at the torrential down pour that shut down our harvest of our triticale (our winter cover crop). My husband will stand at our kitchen sink, starring out the window watching the driving rain and practically spit with anger. I ask him, "can you control this?" His reply, "no, but it still makes me mad."
As frustrating as it is to know we have hay cut, laying in the field or my brand new cut flower seeds are probably getting washed away in the flood, we can't control what the weather does. We only pray that Someone bigger than us, has our backs and knows better than us, what the plan is. It also adds just another layer of tough skin, because just like the last thing that sent us through a trial, we will get through this thing too.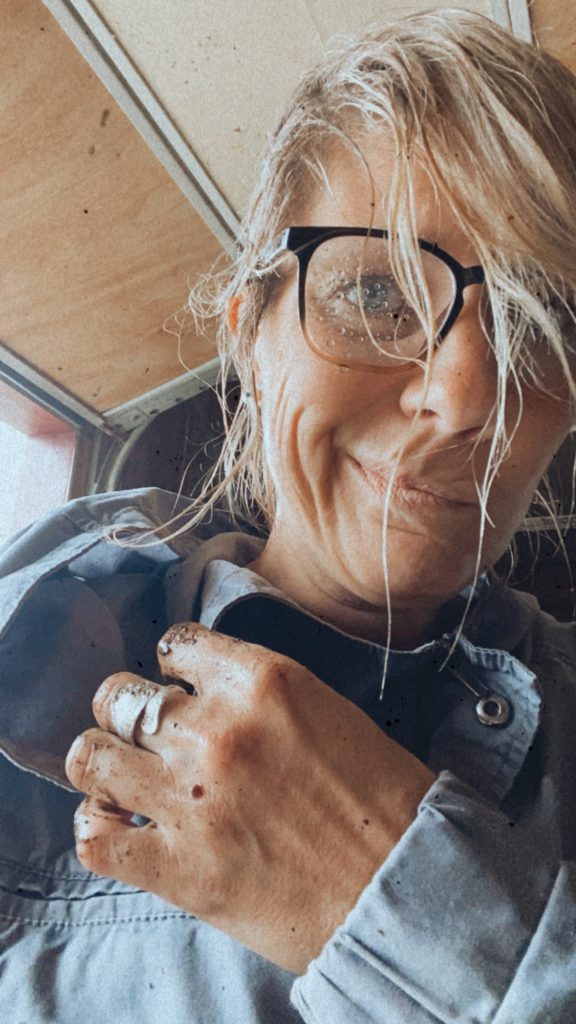 But we have grit and faith and golly we are farmers! We deal with the weathers in's and out's each and every year. Our lifestyle is committed to being flexible and hearty, but that doesn't mean that it's easy.
Spring Planting | His and Her Version Video:
Now we pray for good weather, appropriate amounts of rain and a whole lot of faith to bring our harvest to full fruition this year.
MORE FROM HEARTY SOL
HEARTY BUILDS
Building a Flipping Work Bench with FREE PLANS
LIFE ON THE FARM
How We Stay Organized | Living with Less | Purposeful Living
Learn to Sew! Free Simply Sewing Series
Farmhouse Bedroom Makeover | Spring Farm Prep

DELICIOUS RECIPES FROM HEARTY SOL
Making Sourdough | Everything You Need to Get Started
Making Banana Bread and Banana Bars
Our Family's favorite Hot Cocoa Mix
Honey, Lemon, Ginger Tea and the Benefits
How to make your own Mozzarella Cheese
SEWING PROJECTS
Making your own Favorite Tank Top
Making a Waldorf Doll | Start to Finish instructions with Videos
Making a Flat-Bottom Zipper Pouch